Window Installation with FPIS and Wood Framing - Rainscreen Method
The Foam Sheathing Committee (FSC) serves as a manufacturing-driven organization focused on developing solutions to building code issues and promoting the proper technical use of foam sheathing to the construction industry.
Find more resources about Foam Sheathing on the Continuous Insulation website.
Window Installation with FPIS and Wood Framing - Rainscreen Method
Installation Instructions & Safety Information
Step-by-Step
Intro
Background
There are many acceptable ways to mount and detail windows for support and weather resistance.
This installation best practice provides only a representative solution for integrating windows with foam sheathing.
It is the responsibility of the user to verify the appropriateness of any specific detail for their specific conditions.
---
Scope
The installation approach featured in this presentation:

Is a "rainscreen" installation concept with window flanges and furring mounted directly over any thickness of FPIS.
Uses FPIS as the water-resistive barrier (WRB).

Refer to DrJ DRR 1410-05 and the FPIS manufacturer's installation instructions.
Use of a separate WRB material layer is also common and acceptable with appropriate installation and detailing.

The installation approach shown includes windows with integral mounting flanges.
Integral mounting flange windows:

Are sometimes referred to as "integral nailing flange," "integral fin," or "integral mounting fin."
An integral flange is extruded with the frame and forms one continuous piece around the perimeter.
A mounting flange is typically about 1½" wide and is set back about 1" from exterior window face. Fasteners are installed through the pre-punched holes in the flange.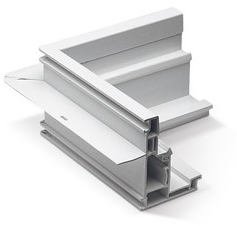 ---
Foam Plastic Insulating Sheathing (FPIS) Products
Three types of FPIS:

Expanded Polystyrene (EPS) - ASTM C578
Extruded Polystyrene (XPS) - ASTM C578
Polyisocyanurate (Polyiso) - ASTM C1289

R-values ranging from R-4 to more than R-6 per inch.
Come in many thicknesses, compressive strengths, and densities.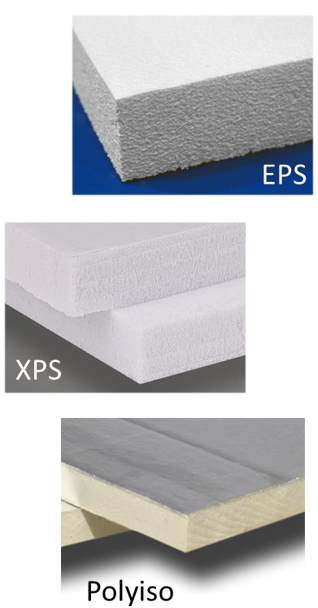 ---
Typical FPIS Applications
Often used as exterior continuous insulation (ci) on buildings to comply with energy codes or for improved performance.

Can be used as an air-barrier (AB) and water-resistive barrier (WRB) per manufacturer's code approvals and instructions.
Proprietary FPIS products are also available as a structural insulating sheathing composite for wall bracing.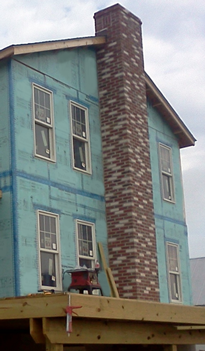 ---
General Installation Guidance
Window, FPIS, WRB, or Flashing manufacturer's installation instructions
An approved design
The following general installation guidelines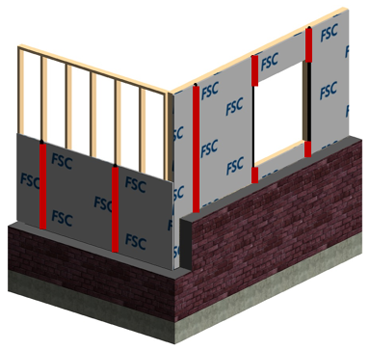 ---
Key Principles
The intent of any acceptable detail for integrating windows with FPIS is:
To provide adequate structural support to the window unit.
To prevent water penetration at the window-wall interface by flashing to direct water onto the exterior surface of the WRB layer and/or cladding and away from the window opening.
To provide adequate drainage at the window sill for any incidental leakage of water that may still penetrate into the rough opening.
---
Framing Methods
There are four typical methods for window framing. This program covers the "Rainscreen" method (furred cladding installations).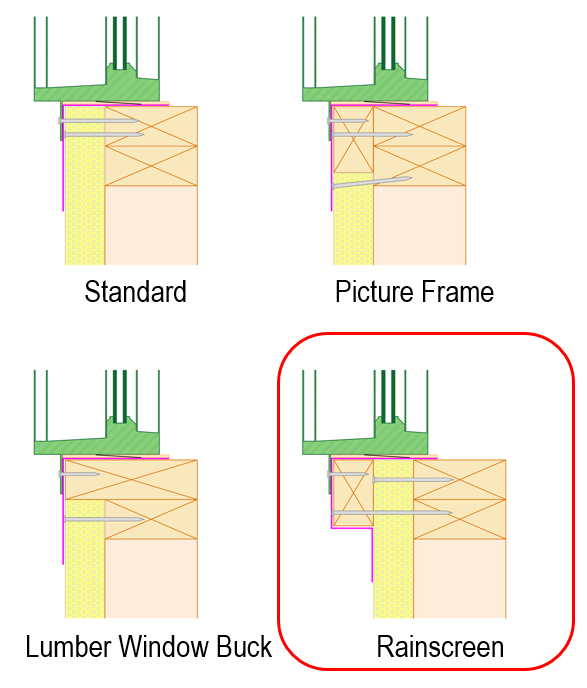 ---
Rainscreen Installation - Sill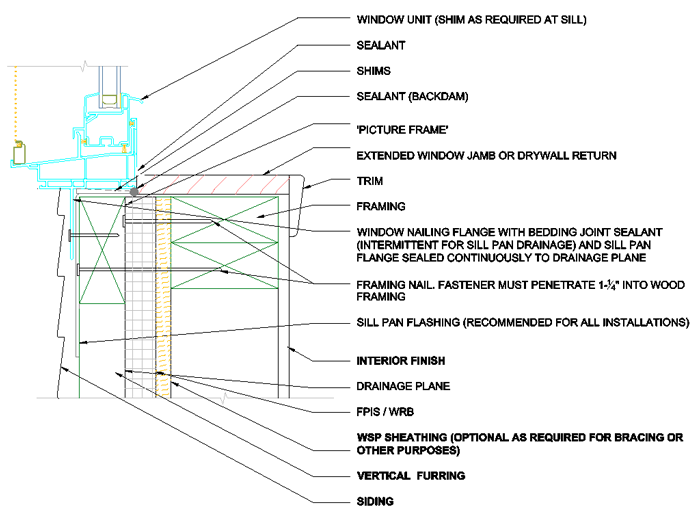 ---
Rainscreen Installation - Jambs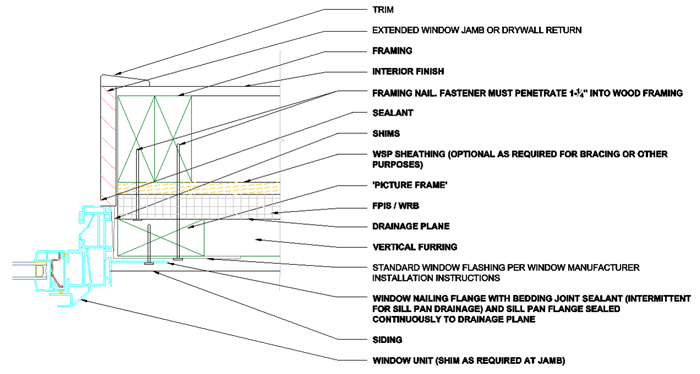 ---
Rainscreen Installation - Header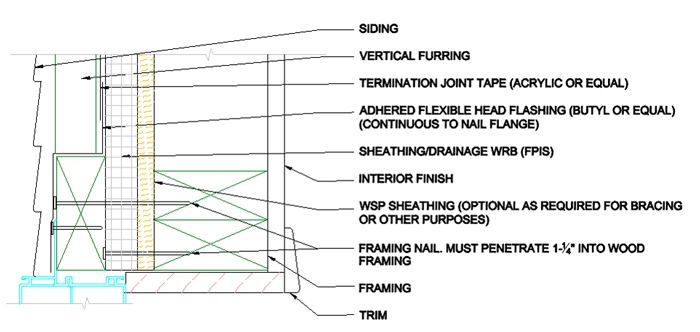 Steps 1-3
Step 1: Frame Window Opening
Frame walls as required by the applicable code.
Ensure window rough opening is square and true.
Ensure appropriate framing in accordance with window installation method selected and support for FPIS edges is provided.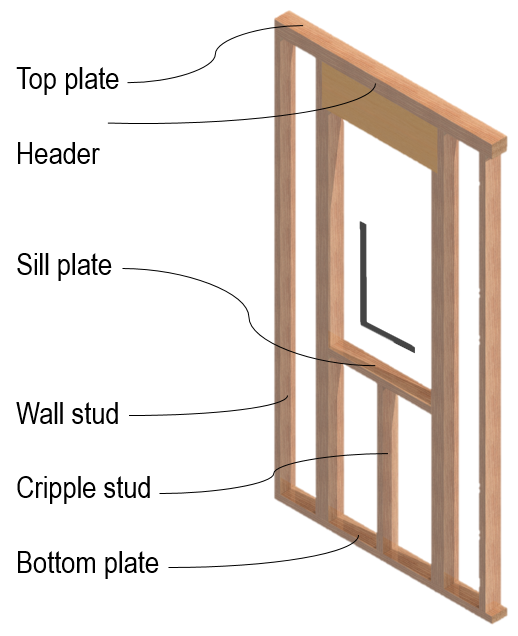 ---
Step 2: Verify and Install FPIS
FPIS material must comply with:

ASTM C578 (EPS, XPS)
ASTM C1289 (Polyiso)

Minimum 15 psi FPIS recommended

For window flanges bearing on FPIS (DRR 1304-01)
For cladding and furring attachments through FPIS (DRR 1303-04)

Maximum foam thickness = 2"
Wind pressure resistance

See ANSI/SBCA FS-100 for guidance
Only required when FPIS not used as oversheathing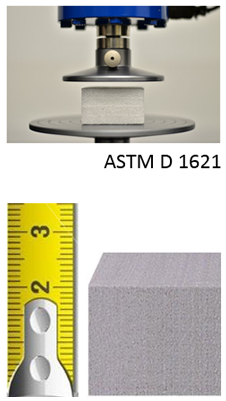 ---
Step 2: Verify and Install FPIS
Drive nails flush and snug with the surface of the insulation board.
Do not overdrive nails.
Do not underdrive nails.
Many FPIS manufacturers recommend use of cap nails.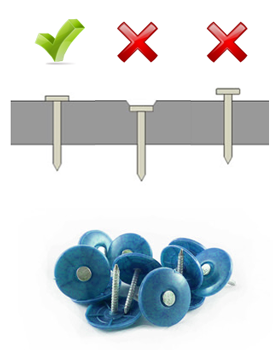 ---
Step 2: Verify and Install FPIS
Follow manufacturer's installation guidelines
While not prohibited, avoid placing vertical joints in the sheathing over a window head where practical.
See FPIS Installation Instructions program.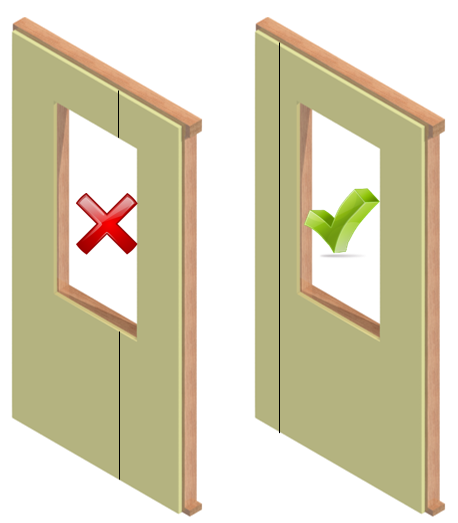 ---
Step 3: Install Picture Frame over FPIS
Install picture frame over FPIS.
Use fastener size and spacing sufficient to support the weight of the window and resist the wind load if the window flange is relied on to transfer wind loads to the structure.

Bedding on a bead of adhesive caulk is recommended for improved sealing.
Use of screws to attach is recommended for improved withdrawal resistance.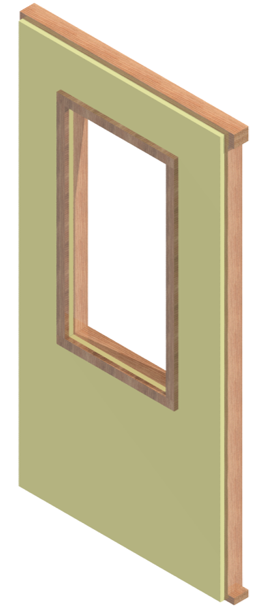 ---
Step 4: Verify Flashing and Sealant Materials
Ensure chemical compatibility of all sealants and flashings with intended substrates; refer to sealant and flashing manufacturer's data.
Use flashing tape and sealants recommended by the window and FPIS/WRB manufacturers.

Steps 5-8
Step 5: Apply Sill Flashing
Apply all flashings in shingle fashion (e.g., jamb flashing overlaps sill flashing and head flashing overlaps jam flashing).
Overlap and seal sill flashing at center of sill if a multi-piece sill or pan flashing is used.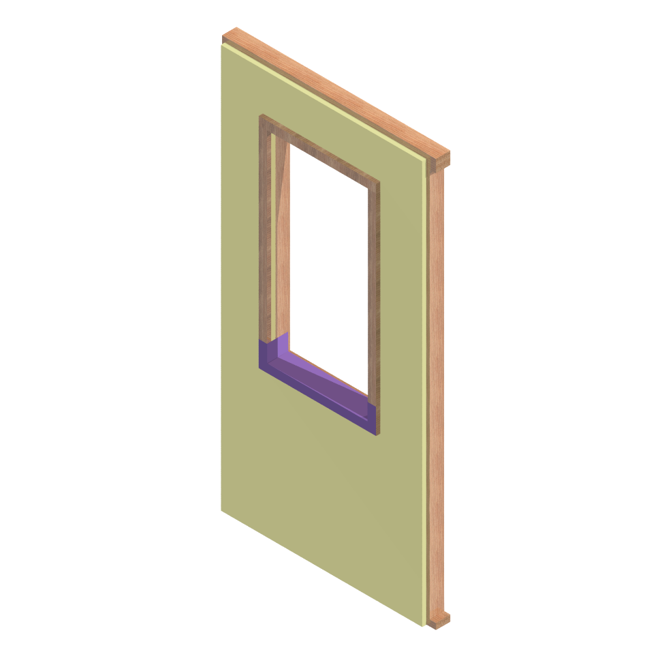 ---
Step 5: Apply Sill Flashing
Alternatively, use a manufactured sill pan to simplify sill drainage installation.

---
Step 6: Apply Jamb Flashing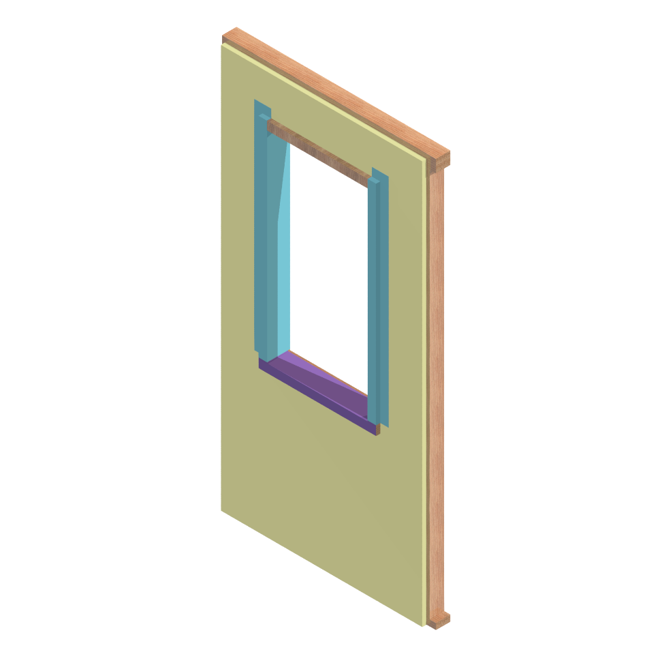 ---
Step 7: Apply Head Flashing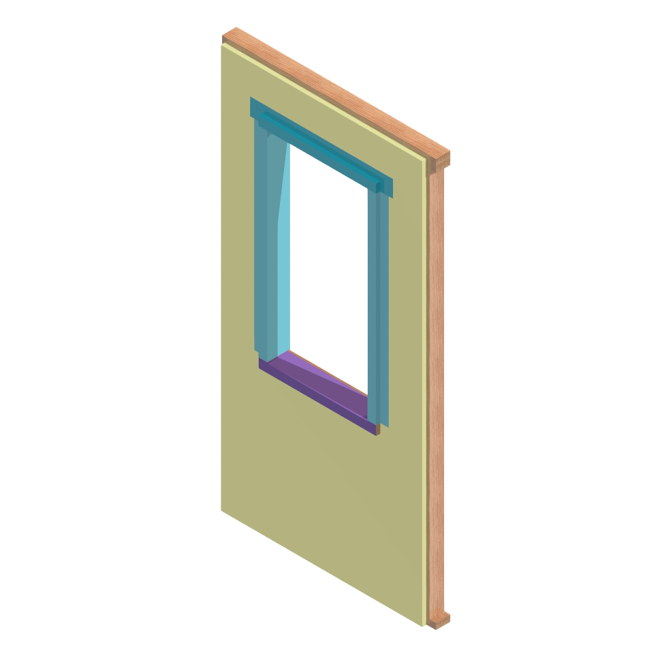 ---
Step 8: Apply Sealant
Apply sealant at jambs and head (or as required by manufacturer's install instructions).
Sill is left open to allow the cavity below the window to drain to the exterior.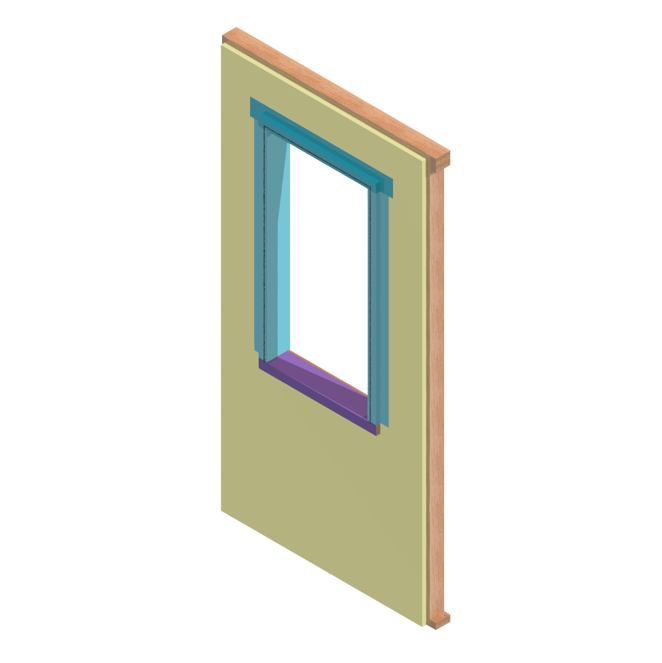 Steps 9-11
Step 9: Install Window Shims at Sill
Apply setting blocks and/or shims between the rough opening and window frame.
The window frame must be anchored to the wood rough opening as required by the window manufacturer or in accordance with an approved design for sill support.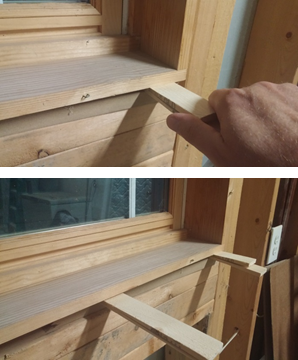 ---
Step 10: Install Window
Install window plumb, level, and square per manufacturer's instructions.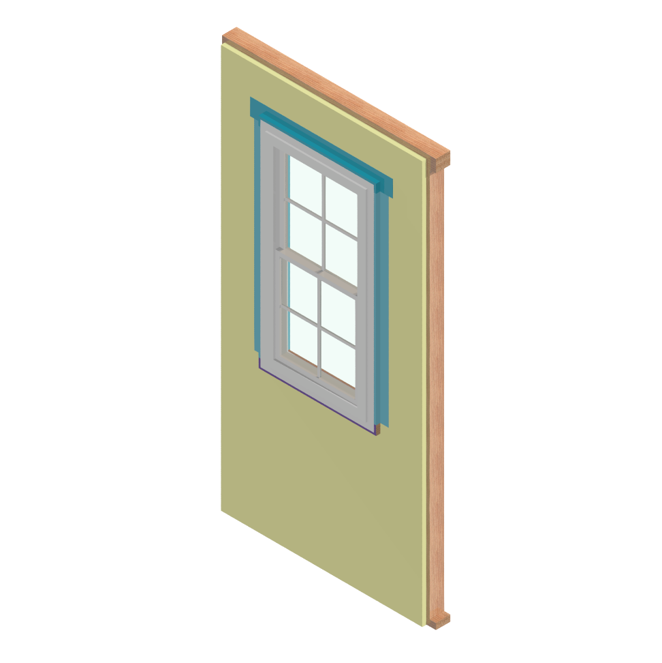 ---
Step 10: Install Window
The window frame must adequately bear on the wood sill and picture frame, particularly if using a non-structural flange window.
Ensure that picture frame connection to stud is adequately designed.
Providing adequate sill support is good practice and often required by window manufacturer installation instructions.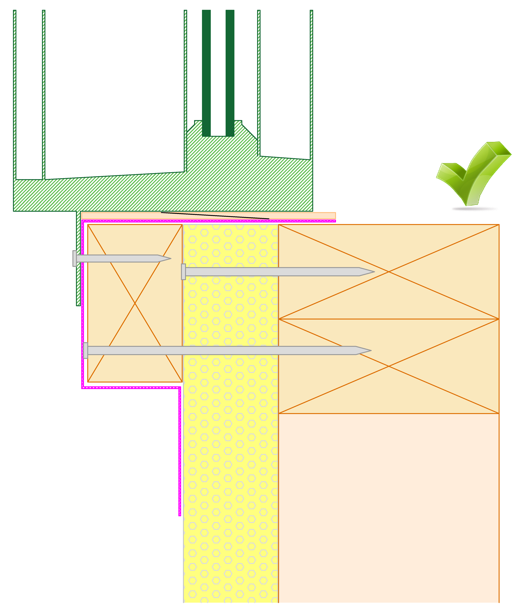 ---
Step 11: Verify Window Fasteners
Window flange fasteners must penetrate a minimum of 1¼" into framing members per IRC 2015.
Follow manufacturer installation requirements for size and spacing.
Fasten picture frame through foam into framing for adequate support of the window unit and wind load resistance.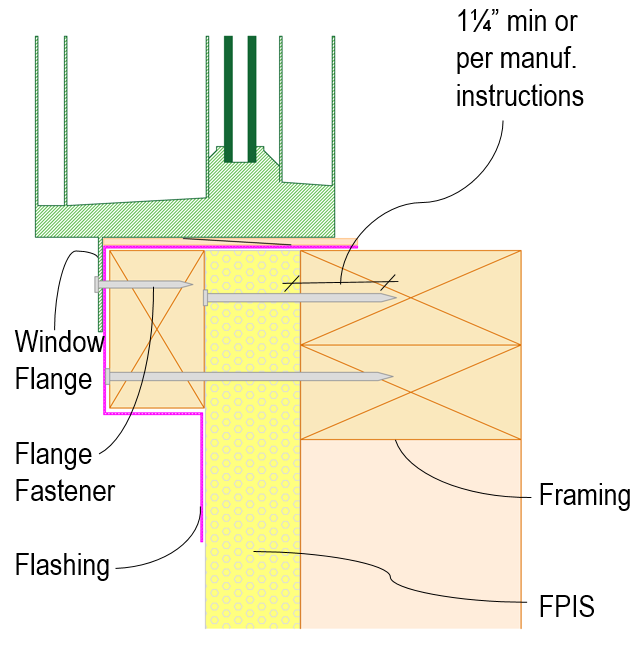 Steps 12-17
Step 12: Install Window Shims
Apply shims between the rough opening and window frame.
Anchor the window per the manufacturer's installation instructions.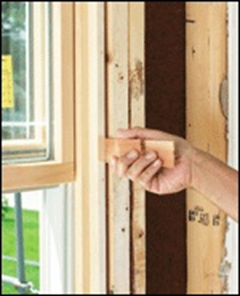 ---
Step 13: Apply Jamb Flashing
Install flashing over the nailing flanges of the jambs to provide a final layer of protection against water intrusion.
The sill is not sealed, allowing for drainage of the rough opening, back to the exterior.
Where applicable, install drip cap per manufacturer.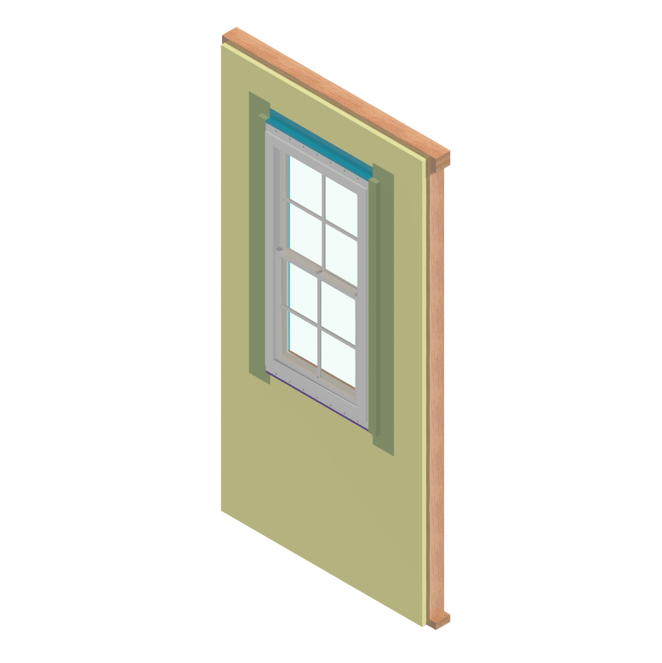 ---
Step 14: Apply Head Flashing
Apply head flashing.

Typically, butyl flashing tapes are used for this purpose.

Overlap window head flange and jamb flashing.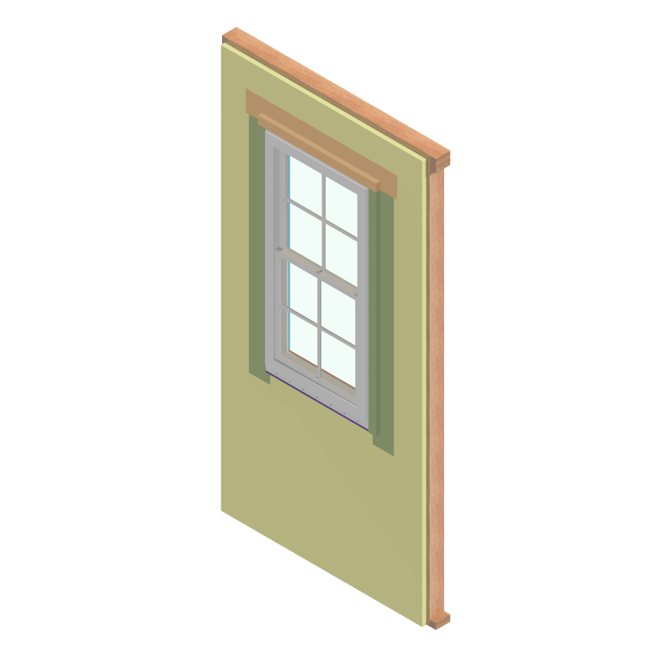 ---
Step 15: Tape Head Flashing
For extra durability and protection, terminate the top edge of the head flashing tape with the FPIS manufacturer's approved joint tape.
Typically, acrylic tapes are used for this purpose.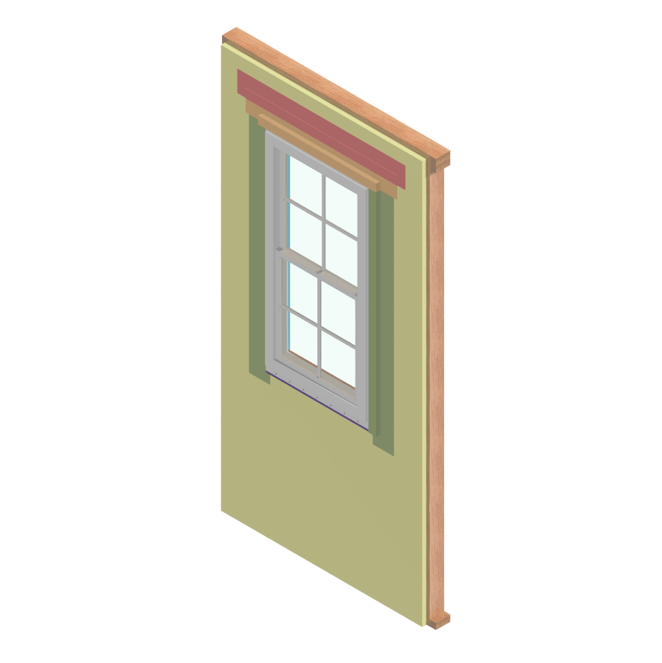 ---
Step 16: Apply Sealant
Air seal window around entire perimeter on the interior with sealant or expanding foam made for this purpose.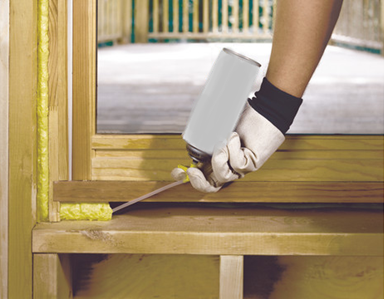 ---
Step 157 Install Cladding
See Installation Instructions "Attachment of Exterior Wall Coverings Through Foam Plastic Insulating Sheathing (FPIS) to Wood or Steel Wall Framing."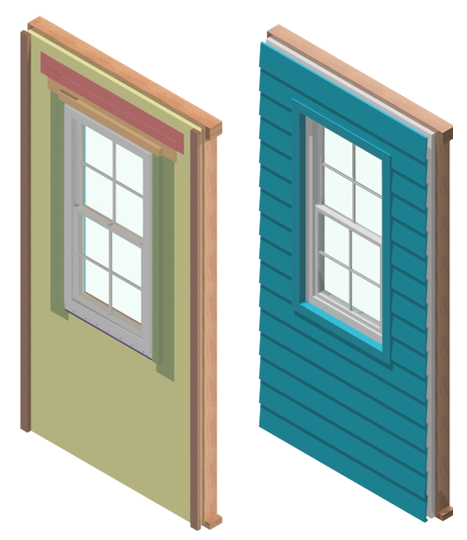 Additional Reading