Foam Plastic Insulating Sheathing Used as a Water-Resistive Barrier System
The Foam Sheathing Committee (FSC) serves as a manufacturing-driven organization focused on developing solutions to building code issues and promoting the proper technical use of foam sheathing to the construction industry.
Find more resources about Foam Sheathing on the Continuous Insulation website.
Foam Plastic Insulating Sheathing Used as a Water-Resistive Barrier System
Installation Instructions & Safety Information
Step-by-Step
Intro
Foam Plastic Insulating Sheathing (FPIS) Products are offered in three types:
Expanded Polystyrene (EPS) - ASTM C578
Extruded Polystyrene (XPS) - ASTM C578
Polyisocyanurate (Polyiso) - ASTM C1289
FPIS products come in many thicknesses to accommodate almost any end use and can be used along with approved tapes as part of a WRB system.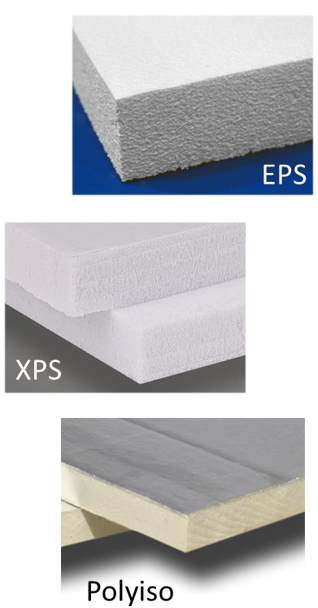 ---
Foam Plastic Insulating Sheathing (FPIS) Products shall be installed in accordance with:
Code compliance requirements per DrJ and ABTG Research Reports
Manufacturer's installation instructions
The following general installation guidelines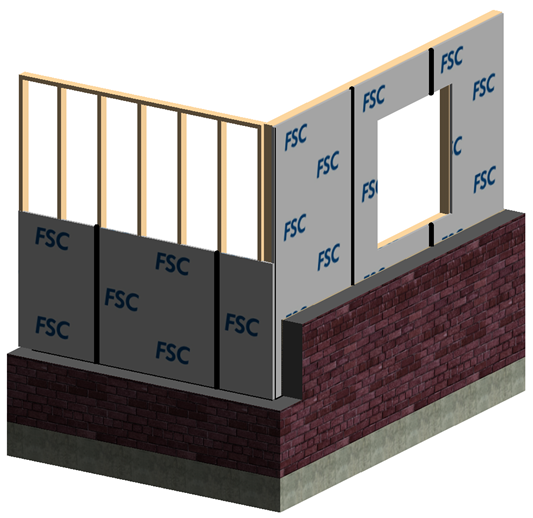 Step 1
Verify Code Requirements
Benchmark for performance:

"One layer No. 15 Asphalt Felt, free from holes and breaks, complying with ASTM D226 for Type 1 felt or other approved WRB…" (R703.2)

All WRB products other than 15# felt, achieve building code acceptance through the alternative material section of the code
R104.11 Alternative materials, design and methods of construction and equipment.

Not intended to prevent the installation of any material or to prohibit any design or method of construction not specifically prescribed by this code.
Shall be approved where the Building Official finds that the proposed design is satisfactory and complies with the intent of the provisions of this code, and that the material, method or work offered is, for the purpose intended, at least the equivalent of that prescribed in this code.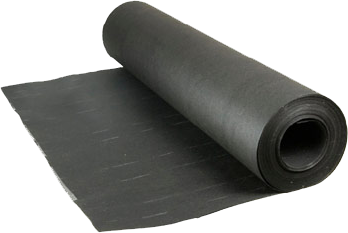 Step 2
Confirm Equivalence
To determine equivalence, three separate water resistance tests are performed:

Water resistance of FPIS material alone
Water resistance of taped joints
Water resistance of full assembly

Tests 1 and 2 are done under conditions of accelerated aging
Durability of WRB systems is addressed through aging of materials prior to testing, field studies, and years of practice
Accelerated aging procedure (used prior to tests 1 and 2):

Ultraviolet light exposure: 10 hours per day for 21 days (210 hours at 135-140 degrees)
25 cycles of drying/soaking
No visible delamination or blistering of the facing layer is required for acceptance
This is the SAME DURABILITY TESTING DONE FOR TAPES
---
Test 1: Water Resistance (AATCC Method 127)
Test is done under conditions of accelerated aging
Test specimens must be held at a hydrostatic head pressure of 21.6" for a period of 5 hours
No water leakage on underside of specimen required for acceptance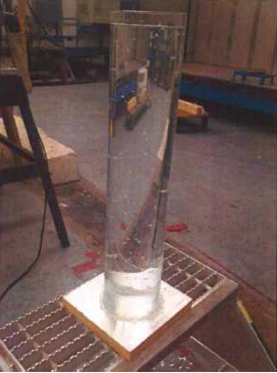 ---
Test 2: Taped Joints
Test is done under conditions of accelerated aging
Test conducted for substrate materials forming foam-to-foam or foam-to-flashing joints
Two 3"x6" pieces of foam sheathing, butt-jointed on 6" edge with joint-sealing treatment
Exposed edges of tapes must be exposed to a hydrostatic head of 21.6" for a period of 5 hours
No water leakage on underside of specimen required for acceptance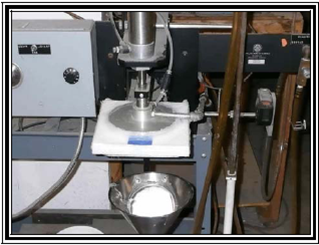 ---
Test 3: Water Penetration - Full Assembly
Test assemblies must be at least 4' wide x 8' high
Must include at least one vertical and at least two horizontal unbacked joints
No exterior wall covering
Assemblies tested at a pressure differential of 6.24 psf for 2 hours
Water shall not penetrate to the unexposed face of the sheathing for acceptance
Openings in the assembly are not required

If tested without openings, FPIS must be recognized in an evaluation report as part of a wall covering system
Manufacturers typically test with openings so that uses are not limited to specific systems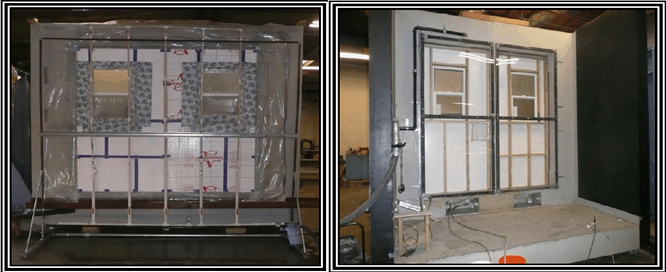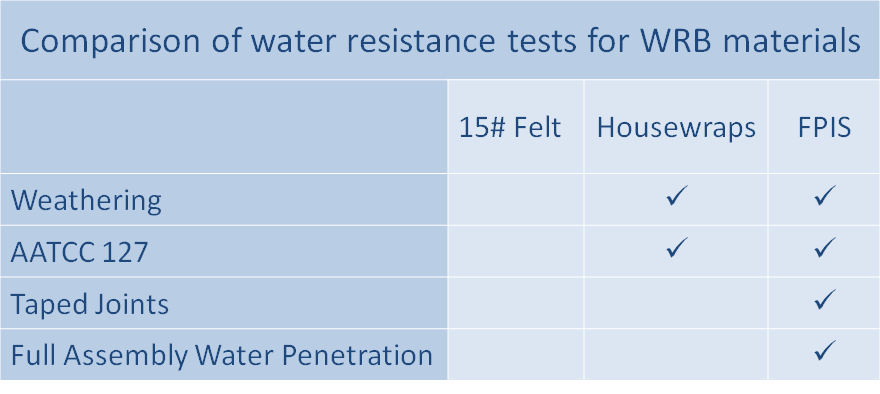 ---
Correlation of Accelerated Aging Tests to Real Time Aging
Real-world exposure testing:

Building Science Corp "Skunkworks" Exposure Facility
To test tape resistance to UV, heat and rain they stick the tape outside for years and watch them

BSC's rule of thumb is that if it works after 2 years of this kind of exposure, you are pretty much good to go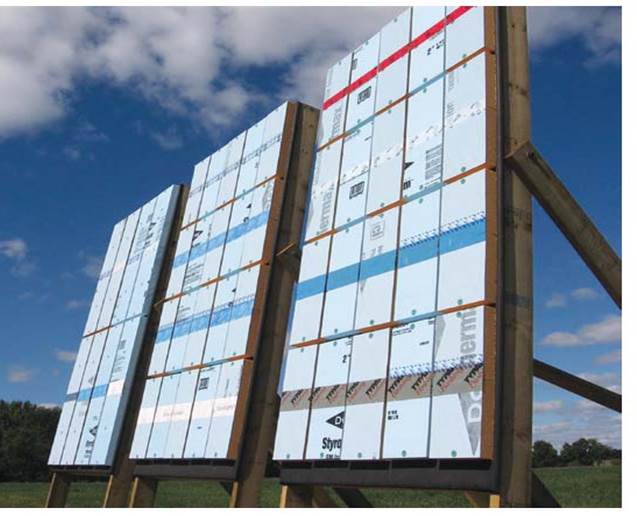 ---
Photograph taken of tape 15 years after application
"WRB is a code requirement (IRC 703.1.1, IBC 1403.2) to keep bulk moisture away from things within a wall that need to stay dry, but not all approved WRB systems are created, nor tested equally." Dr. Lstiburek, Building Science Corp.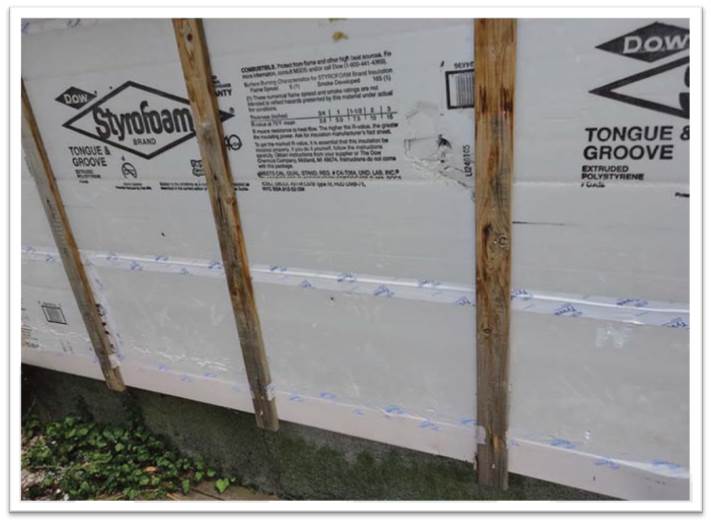 Step 3
Install Insulation Boards
Ensure wall is square and true and align boards with bottom edge of wall.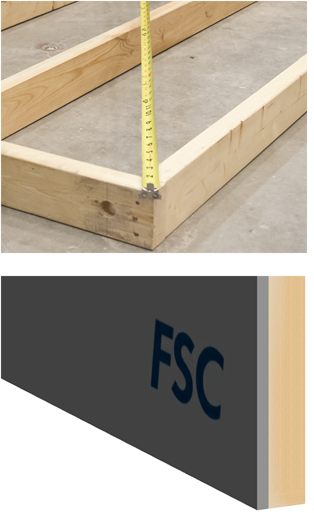 ---
Verify stud spacing, blocking, and bracing requirements with manufacturer. Provide vertical framing or blocking for attachment of siding and trim at transitions. 
---
Space fasteners per manufacturer's instructions around edges of panel, through panels and into interior members.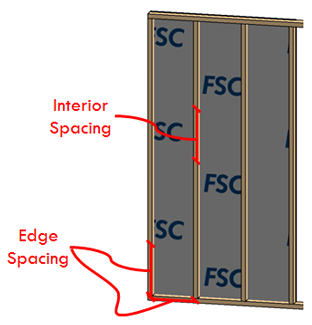 ---
Drive nails flush and snug. Do not overdrive or underdrive nails.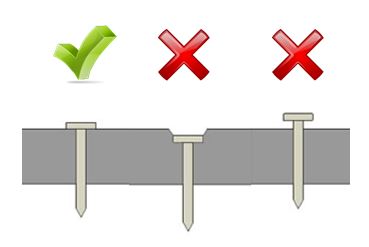 Step 4
Trim Boards at Openings
Trim boards at all window and door openings and cover all framing with FPIS. Fit joints tightly.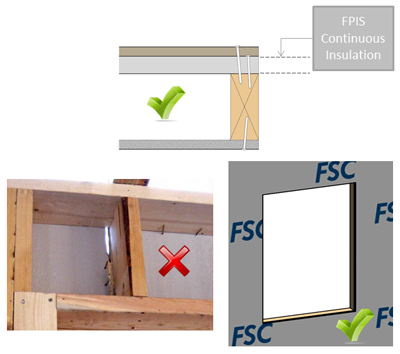 Step 5
Apply WRB Tape
Ensure clean and dry surface for proper adhesion
Apply tape in shingle fashion, working upward from the bottom of the assembly
Center tape over joint to cover fasteners
Seal all joints and openings and penetrations per manufacturer's installation instructions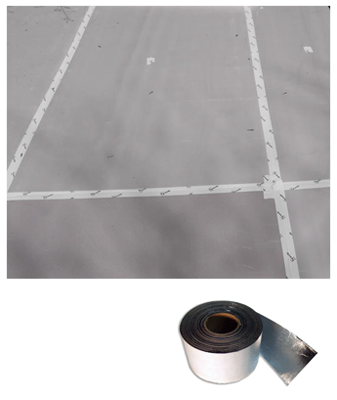 Step 6
Seal Penetrations
At pipe and other small penetrations, seal gaps with silicone or expanding spray foam sealant. Seal joints and openings with joint tape per manufacturer's instructions.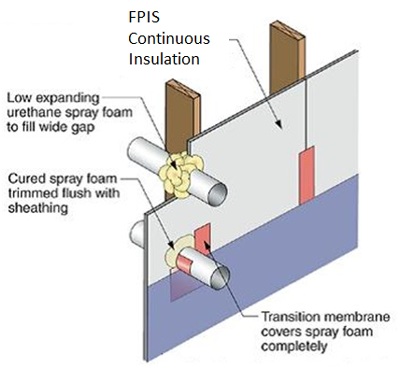 ---
Repair damaged areas per manufacturer's instructions.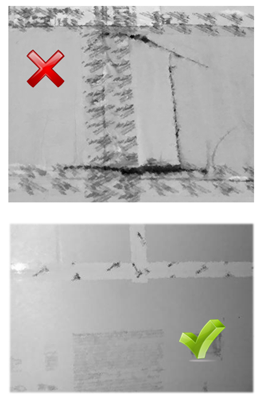 Step 7
Apply Cladding